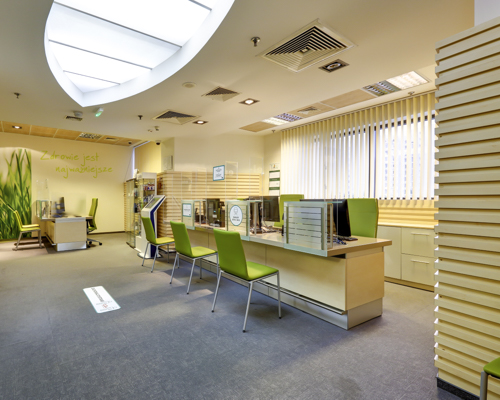 Kontakt
Address
al. Jana Pawła II 82, 00-175 Warszawa
Phone
22 147 7777
Clinic Manager
Magdalena Orlińska
Godziny przyjęć
Dentistry
Mon-Fri: 8.00-21.00
Saturday: 9.00-15.00
Dental X-ray
Mon-Fri: 8.00-20.00
Saturday: 9.00-14.30
Description of facility
The enel-med medical center at Arkadia (Westfield) is located at 82 Jana Pawła II Street in Warsaw. The entrance to the branch is from the outside on the right side of the gallery front or from the underground car park from level -1 sector D. It is also possible to enter from the level 1 shopping center, next to the restaurant. The branch was established in 2005 and is adapted for the disabled.
Access by public transport to the enel-med Arkadia (Westfield) branch
You can get to the branch by various means of public transport:
metro station Gdański station, line M1
trams: 1, 4, 17, 22, 27, 28, 33, 35, 41
buses: 321, 409, 500
Parking for patients
Motorized patients have an underground garage at Arkadia shopping center (Westfield). Free car parking .
On the surface of 1,159 m2, we provide patients with:
4 dental surgeries: conservative dentist, surgeon, prosthetist, implantologist, orthodontist, periodontist, pedodontist, Gerber test, whitening, dental X-ray

8 specialist offices in which they receive: internist, ENT specialist, dermatologist, ophthalmologist, ophthalmologist, orthopedist, cardiologist, rheumatologist, gynecologist, urologist, neurologist, diabetologist, endocrinologist, travel medicine specialist, general surgeon, vascular surgeon, gastrologist, pediatric ophthalmologist, dietitian, psychiatrist, pediatric endocrinologist, children's diabetologist, pediatric orthopedist, pediatric surgeon
2 pediatric offices, located on a separate floor (floor 2), separate treatment room for children
Rehabilitation: 2 rehabilitation rooms in which physical therapy and kinesitherapy are performed, shock wave, massage, urogynecological rehabilitation, neurological rehabilitation of children
the ability to perform diagnostic tests such as: Dental X-ray, general ultrasound, orthopedic, Doppler, preluxation, gynecological and obstetric outpatient clinic, ECG or body composition analysis
treatment point at which vaccinations, injections and blood collection are carried out
In addition, at enel-med Arkadia (Westfield)
Patients can take advantage of botox neurological disorders (migraines, torticollis, face and eyelids cramps, bruxism). Outpatient procedures are performed: dermatological and gynecological cryotherapy, sclerotherapy, surgical procedures to remove skin lesions.
Pokaż na mapie
Galeria