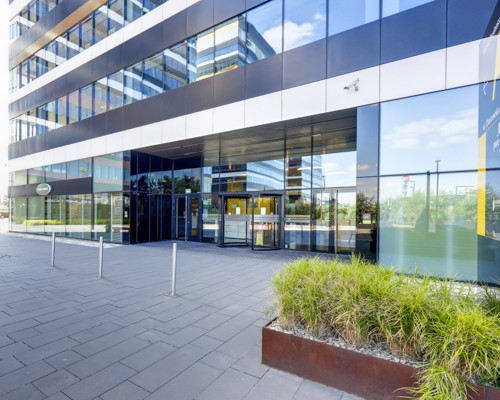 Kontakt
Godziny przyjęć
Dentistry:
Mon-fri.: 7.00-19.30
Saturday: closed
Description of facility
The enel-med medical center, Chorzowska branch, is located at 152 Chorzowska Street in Katowice. The branch is located in Silesia Business Park, building A – ground floor. It was established in 2015 and is adapted for the disabled.
Access by public transport to the enel-med branch. Chorzowska
You can get to the branch by various means of public transport:
– buses: 6, 7, 23, 820, 830, 840
trams: 6, 11, 33
Parking for patients
Motorized patients have at their disposal free parking -20 places – located at the height of the clinic (entrance up next to the stairs for pedestrians). In order to enter the car park, you must collect the ticket and then show it at the branch reception after your visit.
On the surface of 888 m2, we provide patients with:
x offices specialist in which they accept: allergist, vascular surgeon, general surgeon, dermatologist and venereologist, endocrinologist, gastrologist, gynecologist, internist, cardiologist, ENT specialist, occupational medicine, neurologist, ophthalmologist, pediatrician, apnea treatment clinic, pulmonologist, proctologist.
2 pediatric offices, located in a separate zone – entrance straight from the main reception, separate treatment room
3 dental surgeries: conservative dentist, prosthetist, aesthetic dentist, pedodontist (pediatric dentist), teeth whitening, endodontics under the microscope, dental surgeon, implantologist-surgeon, implant prosthetics, oral hygiene;
possibility of dental X-ray, pantomogram.
the ability to perform diagnostic tests such as: Breast ultrasound, tv ultrasound, pregnancy ultrasound, abdominal ultrasound, thyroid ultrasound, urinary tract ultrasound, knee ultrasound, achilles tendon ultrasound, soft tissue ultrasound, salivary gland ultrasound, lymph node ultrasound, pelvic ultrasound, ankle ultrasound, hip ultrasound, shoulder and elbow ultrasound, hand and wrist ultrasound, Doppler ultrasound, Heart echo, electrocardiography, audiogram, spirometry, diagnostic tests – strip tests, ECG holter and pressure holter, thin needle biopsy under ultrasound guidance; 24h health program, apnea test
treatment point at which they are performed; cryotherapy, electrocoagulation, curettage, removal of skin and subcutaneous lesions, vaccinations, laboratory tests
In addition, at enel-med Chorzowska
Patients can use the sleep apnea clinic. And also from the health prevention program – 24h for health.
Pokaż na mapie
Galeria