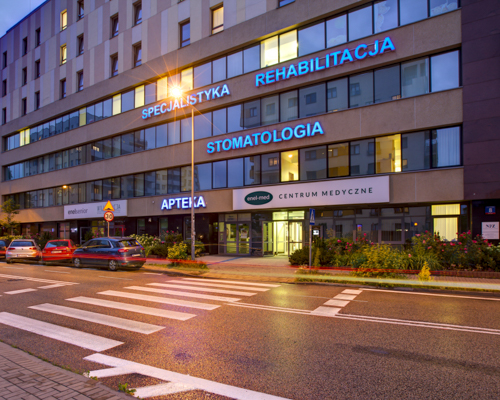 Kontakt
Godziny przyjęć
Dentistry:
Mon-fri.: 8:30-20:00
Saturday: 9:00-14:00
Description of facility
The medical center enel-med Ursus branch is located at 8 Aleksandra Prystora Street in Warsaw in the Skorosze Shopping Center on the first and second floor – a clinic on the third floor – rehabilitation. The branch was established in 2017 and it is adapted for the disabled.
Access by public transport to the enel-med Ursus branch
The branch can be reached by public transport
– by bus: 220, 178, 177, 517, 401, 191, 129, 207
Parking for patients
Motorized patients have an above-ground garage with 30 parking spaces at their disposal, including 2 places for disabled people and 2 places for families, as well as an underground garage – 27 parking spaces. Free car parking .
On the surface of 1,755 m2, we provide patients with:
14 specialist offices in which they receive: allergist, surgeon, dermatologist, diabetologist, gynecologist, internist, cardiologist, ENT specialist, neurologist, ophthalmologist, orthopedist, urologist, rheumatologist, occupational medicine, psychiatrist, psychologist
3 dental surgeries: conservative dentist, endodontist, dental surgeon, prosthetist, pedodontist (pediatric dentist), orthodontist, dental RTH, cone tomography (CBCT)
3 pediatric offices in a separate zone, separate offices for sick and healthy children
Rehabilitation; 2 rehabilitation rooms, 3 doctor's rooms, 2 massage rooms, physical therapy room, hydromassage room.
Rehabilitation: Manual therapy, therapeutic massages, post-operative rehabilitation, back pain outpatient clinic, treatment of posture defects, kinesitherapy, orthopedic rehabilitation of adults, orthopedic rehabilitation of children and adolescents, hydromassage,
Physical therapy: high energy laser, magnetic field, ultrasound, shock wave, Tens currents, local cryotherapy, laser therapy, diadynamic currents, ionophoresis, phonophoresis, galvanization, electrostimulation, mud wraps, UVAB Solux lamp
the ability to perform diagnostic tests such as: CrUSS, abdominal ultrasound, doppler ultrasound, cardiac echo, orthopedic ultrasound, pre-luxation outpatient clinic, urinary tract ultrasound, pedestrian ultrasound, thyroid ultrasound, soft tissue ultrasound, gynecological ultrasound, obstetric ultrasound, uroDYNAMICS, UROFLOWMETRIA, cystoscopy, endoscopy, endoscopy ECG and RR, audiogram, tympanogram, mailing test, spiromertia, allergy tests, WPO
treatment point where vaccinations, injections, blood collection, outpatient surgery (for adults) are performed
Pokaż na mapie
Galeria