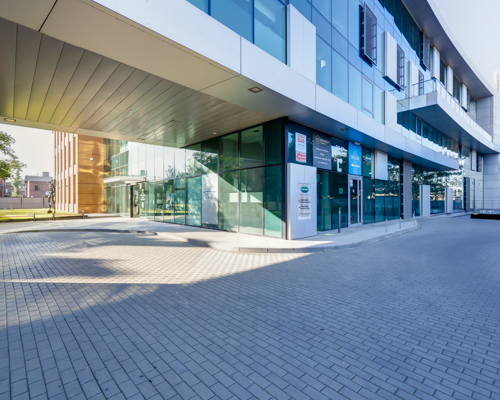 Kontakt
Godziny przyjęć
Dentistry:
Mon-fri.:  8:00 – 19:00
Saturday: 9:00 – 13:00
Description of facility
The enel-med medical center, Grunwaldzka Gdańsk branch is located at al. Grunwaldzka 163, Gdańsk Wrzeszcz in the Office Island building. The entrance is located on the ground floor. It was established in 2011 and is adapted for the disabled.
Access by public transport to the enel-med branch. Grunwaldzka
You can get to the branch by various means of public transport:
– trams: 5, 6, 9, 11, 12 (stop at al. Grunwaldzka / Żołnierzy Wyklętych)
– buses: 115, 116, 122, 124, 126, 129, 136, 142, 149, 157, 162, 164, 199, 262, 264 (stop at ul. Dmowskiego / Wrzeszcz PKP)
110, 116, 122, 124, 126, 127, 136, 142, 149, 157, 199, 227 (stop at the intersection of Al. Grunwaldzka and Żółnierzy Wyklętych)
Parking for patients
Motorized patients have at their disposal separate free parking spaces and paid parking.
On the area of 1 232 m2, we provide patients with:
11 specialist surgeries in which there are: internal medicine doctors, orthopedist, rheumatologist, pediatrician, gynecologist, ophthalmologist, dermatologist, gastroenterologist, neurologist, ENT specialist, allergist, radiologist, pulmonologist, cardiologist, neurosurgeon, surgeon, dietitian, psychiatrist, psychologist.
3 pediatric offices, which are located in a separate zone with a separate treatment room
the ability to perform diagnostic tests such as magnetic resonance imaging, X-ray, ultrasound, endoscopy (colonoscopy and gastroscopy), ECG, spirometry, audiogram, Holer ECG and RR, point tooth x-ray
treatment point at which vaccinations, injections, blood collection, surgery, cryotherapy, allergy tests are performed.
Pokaż na mapie
Galeria