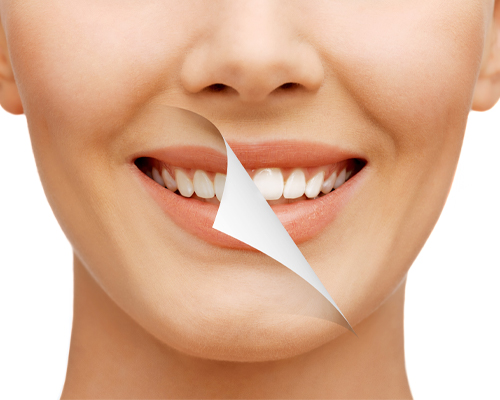 Description of the service
Perfectly white teeth are not only a sign of health and beauty, but also increase your confidence in life and business. Not many people can show off their naturally white teeth, and there are many factors that can cause unsightly discolourations. In such situations, modern teeth whitening methods come to the rescue: they are available to you at our enel-med clinics throughout Poland!
There are many methods of whitening teeth. Some improvement of the teeth shade can be achieved with whitening toothpastes and mouthwashes, but they are only able to remove superficial deposits and stains. Spectacular effects can only be achieved with professional teeth whitening treatments, using LED light, laser or with special trays. However, such treatments are only available at dental practices.
When to whiten your teeth?
Whiten your teeth if you are not satisfied with their shade. Many factors affect the colour of your teeth. Very few people have perfectly white teeth, while most have cream-coloured, yellowish, and even slightly brownish teeth. Younger people have lighter teeth than older people, whose dentine is thicker. Additionally, discolourations can be caused by drinking large amounts of coffee and tea, smoking cigarettes, poor hygiene, eating highly staining products, and due to certain medications or certain systemic diseases.
Available teeth whitening methods
At enel-med medical centres, you can use various methods of teeth whitening depending on your needs and individual indications. Remember, however, that whitening can only be performed in patients without cariogenic lesions and periodontal diseases, after securing exposed tooth necks or worn-down tooth edges as well as after removing tartar and deposits.
One of the most popular methods of improving smile aesthetics is tray whitening. It starts from preparing trays made to perfectly fit your dental arches. You will also receive a kit with a whitening gel divided into individual doses. At home, you will fill in the trays with the gel and place them in your mouth. They must stay there for a strictly defined period of time at regular intervals.
Teeth whitening with LED light
At Enel-Med centres, we offer modern teeth whitening with the use of ZOOM lamp equipped with LEDs. First of all, a whitening substance is applied to your teeth, which is then activated by LED light. This enables the substance to penetrate deep into the teeth and remove stains. If necessary, the treatment can be repeated.
A very effective way to have a snow-white smile is to visit a dental practice for laser teeth whitening. It enables to remove even deep and long-lasting discolourations. The dentist first applies a whitening gel to the teeth and then activates it with the laser.
The tray method is time-consuming, whereas whitening at the practice ensures results only after one visit.
Teeth whitening – what happens after the procedure?
After teeth whitening, some patients may experience temporary sensitivity. Therefore, it is a good idea to use soft-bristled toothbrushes and toothpastes for sensitive teeth at this time in order to alleviate the discomfort. For best results, for a few days after the procedure, we recommend that patients follow the so-called white diet (avoid products that could discolour the enamel). In some cases, fluoridation treatments done in the office are also indicated.
The key to preserving the results for as long as possible is the proper oral hygiene and regular visits to the dentist for check-ups and preventive dental care.
Teeth whitening – where to have it performed?
At Enel-Med Medical Centres throughout Poland, experienced dentists are at your disposal. During consultations, they will suggest the best method of teeth whitening.
FAQ
Is teeth whitening painful?
Modern teeth whitening treatments are painless. More sensitive patients may only experience slight discomfort.
How to prepare for teeth whitening?
Before teeth whitening, all cariogenic cavities should be treated, and exposed necks and enamel abrasions should be secured. The first treatment should also be preceded by oral hygiene procedure (teeth cleaning to remove tartar and plaque).
A white diet means eliminating from your diet any foods that cause discolourations, including beets, cherries, berries, dark grapes, red wine, coffee and black tea. The diet should be followed for several days after the whitening procedure.
Contact form
Please complete the form below. We will call you back, tell you about the details of the offer and arrange an appointment for you.