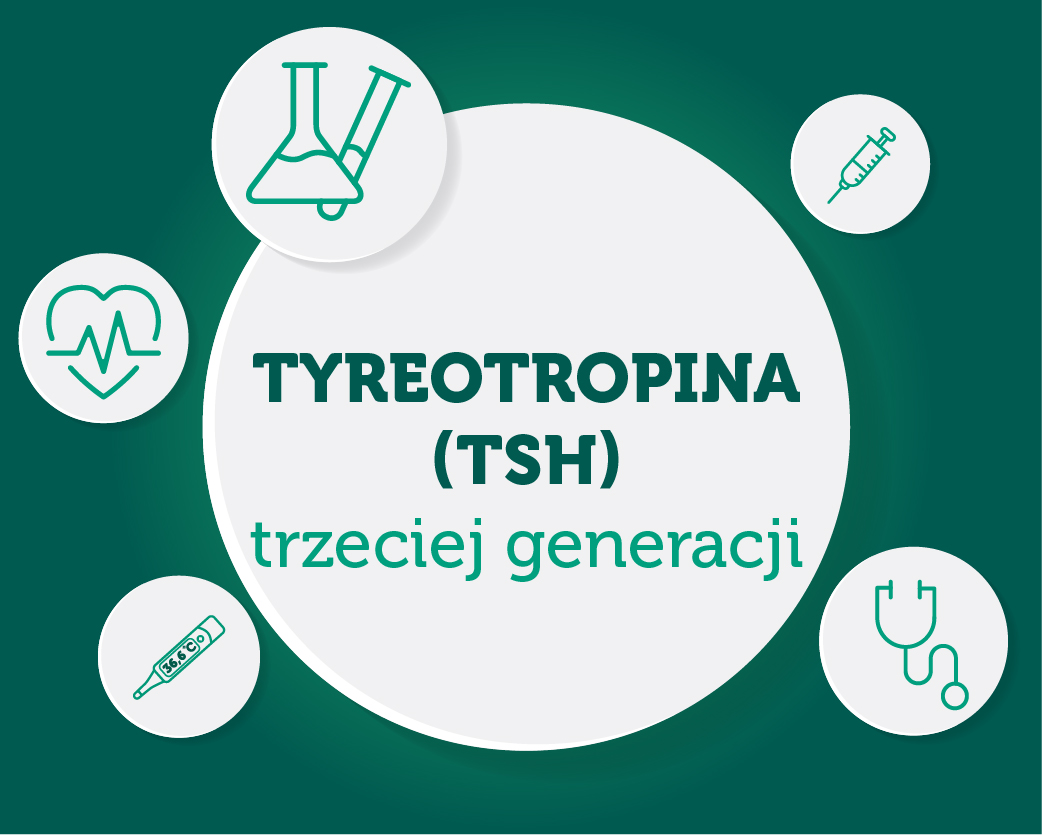 Opis badania
Tyreotropina – czyli TSH – to produkowany przez przedni płat przysadki mózgowej hormon, który reguluje wydzielanie przez tarczycę hormonów: T4 (tyroksyny) oraz T3 (trójjodotyroniny). Badanie krwi TSH można wykonać w placówkach enel-med w całej Polsce.
Tyreotropina – hormon tyreotropowy (ang. thyroid stimulating hormone TSH) tyreotropina– to hormon produkowany przez przysadkę mózgową. Jest on niezbędny do prawidłowej pracy tarczycy i produkowania przez nią dwóch kolejnych, bardzo istotnych dla funkcjonowania organizmu hormonów: tyroksyny (T4) oraz trójjodotyroniny (T3). Poziom TSH we krwi to jedno z najczęściej wykonywanych badań hormonalnych.
Badanie TSH – wskazania
Badanie krwi TSH może być wykonane jako profilaktyka u osób bez widocznych objawów chorób tarczycy, np. w ramach badań okresowych, kontrolnych czy u kobiet planujących lub będących w ciąży. Tak naprawdę jednak w przypadku TSH badanie najczęściej zleca się osobom, u których występują objawy sugerujące niedoczynność lub nadczynność tarczycy. Mogą to być:
nagły przyrost/spadek masy ciała,
nadmierna senność,
uczucie zmęczenia,
rozdrażnienie,
spowolniona akcja serca lub uczucie szybkiego bicia serca,
nadmierna potliwość,
nietolerancja niskich/wysokich temperatur,
suchość skóry,
nadmierne pocenie się,
drżenia i potliwość dłoni,
wypadanie włosów,
zaburzenia miesiączkowania,
niepłodność.
Badanie TSH – przeciwwskazania
Nie ma żadnych bezwzględnych przeciwwskazań do wykonania badania krwi TSH. Doświadczenie i empatia pracowników oddziałów medycznych enel-med sprawiają, że badanie można bezstresowo przeprowadzić nawet u dzieci czy osób mocno wrażliwych na ukłucie lub nawet sam widok igły. Przy zachowaniu rygorystycznych procedur bezpieczeństwa poziom TSH można oznaczyć także u osób chorych zakaźnie, np. na wirusowe zapalenie wątroby czy u nosicieli wirusa HIV.
Badanie TSH – jak się przygotować?
Badanie TSH jest badaniem wykonywanym z krwi pacjenta – najczęściej pobiera się je w godzinach porannych, a pacjent zgłaszając się do punktu pobrań, nie musi być na czczo, chyba że lekarz zaleci inaczej. Oznaczenie TSH jest podstawowym badaniem osi tarczycowej – jeżeli wynik badania jest nieprawidłowy, to wówczas należy oznaczyć poziom wolnej tyroksyny (fT4) we krwi. Oznaczanie wolnej trójjodotyroniny (fT3) klinicznie jest mniej istotne, wykonuje się je rzadko i w ściśle określonych sytuacjach klinicznych.
Warto pamiętać, że na poziom TSH we krwi może mieć wpływ przyjmowanie niektórych leków, np. estrogenów, propranololu czy fenytoiny. O ich przyjmowaniu należy poinformować lekarza.
TSH – jak przebiega badanie?
Na pobranie krwi w celu oznaczenia TSH należy się zgłosić rano, ale, o ile lekarz nie zaleci inaczej, nie trzeba być na czczo. Gdy nadejdzie kolej pacjenta, zostaje on poproszony do pokoju przez osobę pobierającą krew. Pacjent siada na krześle i odsłania jedno z przedramion, a pracownik punktu pobrań odkaża skórę okolicy zgięcia łokciowego i powyżej zakłada stazę. Następnie delikatnie wkłuwa on przygotowaną wcześniej jednorazową, sterylną igłę w żyłę i przy pomocy próżniowych zestawów pobiera niewielką ilość krwi do badania. Próbka natychmiast zostaje zabezpieczona. Skóra w miejscu wkłucia zostaje ponownie zdezynfekowana, a następnie przykleja się na nią wacik, by sącząca się krew nie pobrudziła ubrania. Miejsce wkłucia należy uciskać przez kilka minut, trzymając rękę wyprostowaną, aby nie zrobił się krwiak.
Punkt pobrań w przychodni można opuścić od razu po pobraniu krwi. Warto mieć przy sobie kanapkę i coś do picia, by móc posilić się po badaniu.
FAQ
Jeśli chodzi o TSH, norma wynosi od 0,4do 4 mIU/l i zależy m.in. od płci, wieku oraz metody, którą laboratorium oznacza wynik TSH.
Czy prawidłowy wynik TSH jednoznacznie określa, że jest się zdrowym?
Prawidłowe TSH – zwykle oznacza, że tarczyca pracuje prawidłowo natomiast w celu dokładnej oceny funkcji tarczycy mogą być niezbędne dodatkowe oznaczenia.
Czy badanie TSH wykonuje się również u dzieci?
Jak najbardziej! Prawidłowy poziom TSH u noworodków pozwala wykluczyć występowanie wrodzonej niedoczynności tarczycy.
Formularz kontaktowy
Wypełnij poniższy formularz. Oddzwonimy, opowiemy o szczegółach oferty i umówimy Cię na wizytę.