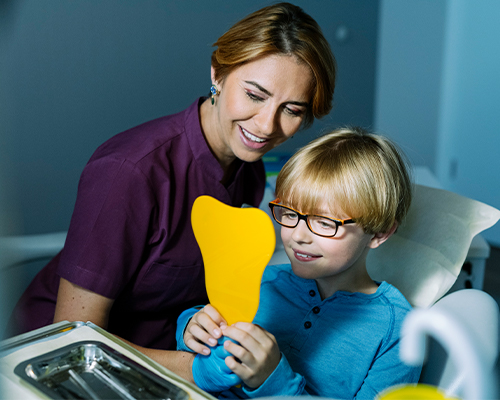 Opis specjalizacji
Pedodonta to specjalista, który zajmuje się profilaktyką, diagnostyką i leczeniem chorób jamy ustnej u najmłodszych pacjentów. Zapraszamy dzieci i młodzież do naszych klinik enel-med stomatologia na terenie całej Polski na wizyty adaptacyjne, zabiegi profilaktyczne w postaci lakowania oraz lakierowania uzębienia, a także bezbolesne leczenie próchnicy zębów mlecznych i stałych.
Stomatolog dziecięcy specjalizuje się w leczeniu uzębienia małych pacjentów. Należy mieć świadomość, że dziecku już od najmłodszych lat należy wpajać prawidłowe zasady higieniczne i żywieniowe oraz przyzwyczajać je do systematycznych wizyt u dentysty. Współczesna pedodoncja – m.in. dzięki nowoczesnym metodom znieczuleń i innowacyjnym technikom leczenia – sprawia, że wizyty w gabinecie stomatologicznym odbywają się bez zbędnego stresu i bólu.
Dentysta dziecięcy – kiedy zgłosić się na wizytę?
Dentysta dziecięcy – czyli pedodonta – jest specjalistą, do którego należy zgłosić się:
przy pojawieniu się pierwszych zębów mlecznych w jamie ustnej. Pierwsza wizyta powinna odbyć się około 1 roku życia, a wizyty przeglądowe należy powtarzać co 3–4 miesiące
przy problemach z ząbkowaniem, np. bardzo bolesnym, wczesnym (tuż po urodzeniu) albo późnym;
przy dolegliwościach bólowych;
gdy z ust dziecka wyczuwalny jest nieprzyjemny zapach;
jeśli u dziecka pojawiają się przebarwienia na szkliwie w postaci żółto-brązowych plamek lub widocznych ubytkach próchnicowych;
przy nieprawidłowo wyrzynającym się uzębieniu i występuje podejrzenie wady zgryzu,
Bardzo ważnym etapem oswajania dziecka z pedodontą jest wizyta adaptacyjna – maluch zapoznaje się wówczas z gabinetem, poznaje lekarza i asystentkę, może obejrzeć narzędzia stomatologiczne i zadawać dentyście pytania. Dzięki temu kolejne wizyty u stomatologa dziecięcego będą dla małego pacjenta mniej stresujące.
Bardzo ważne są częste wizyty przeglądowe, które powinny się odbywać co 3- 4 miesiące. Podczas tych wizyt mały pacjent przyzwyczaja się do wykonywania zabiegów w obrębie jamy ustnej. Jeżeli pedodonta nie stwierdzi obecności zmian próchnicowych może wykonać zabiegi profilaktyczne. Poza tym zaufanie do lekarza oraz dobra współpraca z dzieckiem dobrze rokuje na przyszłość, szczególnie jeżeli zajdzie konieczność leczenia ubytków próchnicowych. Dzięki częstszemu zgłaszaniu się lekarz pedodonta może wykryć zmianę próchnicową we wczesnym stadium i od razu wdrożyć leczenie. Należy pamiętać, że próchnica w zębach mlecznych i stałych niedojrzałych ma bardzo agresywny przebieg i często zdarza się, że przy zbyt późnym zgłoszeniu się do dentysty zmiany mogą już być nieodwracalne, a leczenie skomplikowne.
Stomatolog dziecięcy – jakie zabiegi wykonuje?
Konsultacja ze stomatologiem dziecięcym zawsze zaczyna się od wywiadu z rodzicami dziecka oraz podstawowego badania jamy ustnej. W zależności od indywidualnego przypadku zaproponowane mogą zostać różne zabiegi i metody leczenia.
Leczenie próchnicy w zębach stałych i mlecznych
Statystyki pokazują, że próchnica dotyczy niestety zdecydowanej większości dzieci w Polsce. W oddziałach enel-med stomatologia leczymy próchnicę zarówno w zębach mlecznych, jak i stałych, z zastosowaniem nowoczesnych wypełnień, a w uzębieniu mlecznym proponujemy szeroką gamę kolorowych wypełnień. Rodzaje wypełnień, które zakładamy w zębach mlecznych są dostosowane do warunków w jamie ustnej małego dziecka, co pozwala na ich szybkie założenie i jest niezwykle istotne przy ograniczonej współpracy małego pacjenta   z dentystą.
Jest to zabieg, który polega na uszczelnianiu naturalnych niedojrzałych i bardzo głębokich bruzd i szczelin znajdujących się na powierzchni zęba specjalnym lakiem, który stanowi barierę mechaniczną przed zaleganiem płytki bakteryjnej i resztek pokarmowych w miejscach trudno dostępnych dla włosia szczoteczki. Stopniowo uwalnianie fluorków, powoduje dodatkowo mineralizację szkliwa. Najczęściej lakowanie wykonuje się w świeżo wyrzniętych zębach stałych przedtrzonowych i trzonowych.
Lakierowanie (fluoryzacja zębów u dzieci)
To bardzo prosty i szybki zabieg profilaktyczny, który wykonuje się zarówno w uzębieniu mlecznym jak i stałym. Polega on na nakładaniu na uprzednio oczyszczone powierzchnie zębów specjalnego preparatu o większym stężeniu związków fluoru niż w używanych na co dzień pastach do zębów. Fluoryzacja zębów u dzieci zalecana jest mniej więcej co 3–6 miesięcy. Zabieg ma za zadanie chronić zęby przed próchnicą pod warunkiem przestrzegania przez dziecko zalecanych przez pedodontę warunków higienicznych i żywieniowych.
W enel-med stomatolog dziecięcy przeprowadzi również instruktaż higieny jamy ustnej dla dzieci i rodziców, a w razie konieczności wykona ekstrakcję zęba mlecznego lub skieruje do ortodonty
FAQ
Jak przygotować się do pierwszej wizyty?
Opowiadając dziecku o wizycie, dobieraj odpowiednie słowa. Unikaj zwrotów typu "bądź dzielna, wytrzymaj", aby nie sugerować, że wizyta będzie nieprzyjemna czy bolesna.
Poinformuj dziecko o przyczynie wizyty u stomatologa, zwłaszcza jeśli jest planowana.
Spróbuj zaciekawić dziecko tematem zdrowia zębów oraz zachęcić do rozmowy z personelem w gabinecie.
Pozwól lekarzowi działać zgodnie z jego wiedzą i doświadczeniem: daj mu szansę nawiązać kontakt z mały pacjentem.
Uprzedź dziecko, że zostanie pod opieką pani doktor lub pana doktora, z którymi warto się zaprzyjaźnić.
Zabierz ze sobą wyniki wszystkich badań, które miało wykonane dziecko: pantomogramu, CBCT itd.
Zabierz dokumentację medyczną z innych placówek, w których dziecko było leczone stomatologicznie.
Jakie korzyści daje leczenie pedodontyczne?
Kontrola nad zdrowiem dziecka – bakterie, np. próchnicowe, mogą się przenieść z jamy ustnej do krwi, a z nią rozprzestrzenić po całym organizmie.
Prawidłowy rozwój zębów – zachowanie zdrowych zębów mlecznych stwarza optymalne środowisko dla wyrzynania się zębów stałych. Jeśli zęby stałe nie będą zarażone próchnicą, ich dalsze wyrzynanie przebiegnie prawidłowo.
Bezbolesne i bezstresowe wizyty u stomatologa – dziecko zawczasu zaznajomione z procedurami stomatologicznymi czuje się pewnie w gabinecie i nie kojarzy go z bólem ani dyskomfortem.
Rozpoczęcie leczenia ortodontycznego w najlepszym momencie – stomatolog jest w stanie określić potrzebę i optymalny początek ewentualnego leczenia ortodontycznego. W ortodoncji największą rolę gra czas, zwłaszcza u dzieci, których zęby, kości twarzy, szczęki i żuchwy jeszcze się rozwijają. Ten właściwy moment łatwo przeoczyć, a leczenie podjęte zbyt późno będzie dłuższe i mniej przewidywalne.
Piękny, zdrowy, biały uśmiech na buzi Twojego dziecka.
Konsekwencje braku leczenia:
szybko rozwijająca się próchnica w zębach mlecznych, prowadząca do powikłań w postaci zapalenia miazgi zęba, czyli konieczności jego umartwienia lub usunięcia;
złogi nazębne i ubytki próchnicowe, które gromadzą dużą ilość bakterii i resztek jedzenia, przyśpieszając rozwój  próchnicy. Usunięcie ich jest niemożliwe bez wdrożenia profesjonalnej opieki stomatologicznej: wykonania czyszczenia, wyleczenia ubytków próchnicowych;
podatność na choroby: infekcje gardła, oskrzeli, zatok, powodowana przez bakterie, które z jamy ustnej rozsiewane są po całym organizmie dziecka;
próchnica u innych dzieci: bakterie próchnicowe mogą się przenieść na zęby rodzeństwa, jeśli dzieci używają tych samych sztućców, kubeczków, piją z jednej butelki;
ból i strach przed stomatologiem: leczenie zaawansowanych ubytków może zostawić u dziecka negatywne skojarzenia z gabinetem stomatologicznym. Po bolesnej wizycie dziecko nie chce już współpracować z lekarzem i musi być leczone w narkozie lub z podaniem gazu rozweselającego;
wady zgryzu: unikając kontroli stomatologicznych łatwo przeoczyć właściwy moment na wdrożenie leczenia ortodontycznego, a nieleczona wada może się pogłębiać i utrudniać procedury ortodontyczne w przyszłości.
Formularz kontaktowy
Wypełnij poniższy formularz. Oddzwonimy, opowiemy o szczegółach oferty i umówimy Cię na wizytę.