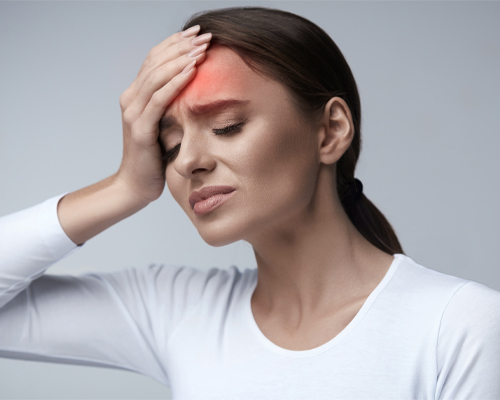 Opis usługi
Migrena to przewlekła choroba neurologiczna, objawiająca się silnymi, napadowymi bólami głowy. Bóle migrenowe występują w parze z nudnościami oraz nadwrażliwością na dźwięki, światło i zapachy, przez co migrena utrudnia normalne funkcjonowanie.
Istnieje kilka rodzajów migreny:
migrena bez aury – bóle migrenowe powtarzające się min. 5 razy i trwające 4-72 h oraz nadwrażliwość na bodźce zewnętrzne, nudności i uczucie napięcia;
migrena z aurą – dodatkowe objawy neurologiczne, poprzedzające ból migrenowy: zawroty głowy, zaburzenia równowagi, mowy, czucia lub widzenia, halucynacje. Trwają 5-60 minut;
migrena przewlekła – bóle migrenowe i inne charakterystyczne dla migreny objawy, które trwają przez min. 2 tygodnie i powtarzają się na przestrzeni kolejnych 3 miesięcy;
migrena okoporaźna – powoduje porażenie mięśni okoruchowych, co może prowadzić do rozszerzenia źrenic, opadania powiek czy podwójnego widzenia;
migrena siatkówkowa – objawia się wystąpieniem mroczków w jednym oku i może prowadzić do chwilowej lub całkowitej ślepoty.
Leczenie migreny
Migrenowe bóle głowy można leczyć doraźnie, podając silne leki przeciwbólowe; profilaktycznie – podając leki prewencyjnie, unikając bodźców i stosując właściwą dietę, ale najskuteczniejszą metodą leczenia migreny przewlekłej jest leczenie niefarmakologiczne.
Według Polskiego Towarzystwa Bólów Głowy oraz Międzynarodowego Stowarzyszenia Bólów Głowy za najskuteczniejszy sposób leczenia migreny przewlekłej jest leczenie toksyną botulinową. Pozwala całkowicie zrezygnować z innych terapii i jest metodą bezpieczną, nie wywołującą skutków ubocznych jak ma to miejsce w leczeniu farmakologicznym.
W naszych oddziałach wykonujemy rewolucyjny zabieg BOTOX®, czyli leczenie migreny toksyną botulinową.  Dzięki niemu:
pozbędziesz się migreny skutecznie, bezpiecznie i bez efektów ubocznych,
bóle migrenowe miną już po kilku dniach,
odzyskasz komfort i radość życia.
O zabiegu leczenia migreny BOTOX®
Leczenie migreny toksyną botulinową polega na wstrzyknięciu odpowiedniej ilości toksyny w mięśnie zlokalizowane w 7 strefach szyi i głowy. Substancja aktywna hamuje wydzielanie acetylocholiny, a także innych neurotransmiterów zakończeń nerwowych oraz neuropeptydów w obrębie połączeń nerwowo-mięśniowych. To najskuteczniejszy sposób na migrenę: po zabiegu leczone mięśnie rozkurczają się i rozluźniają, a ból migrenowy zostaje zablokowany.
Efekty zabiegu leczenia migreny toksyną botulinową
Efekt terapeutyczny pojawia się już po kilku dniach od zabiegu leczenia migreny i nasila się do ok. 2 tygodni po podaniu leku.
Efekt leczniczy utrzymuje się najczęściej do ok. 3-4 miesięcy po zabiegu. Chcąc pożegnać bóle migrenowe na dłużej, zabieg leczenia toksyną botulinową należy powtórzyć 3 razy w odstępach 12 tygodni.
Zabieg leczenia migreny toksyną botulinową wykonuje lekarz neurolog z poradni leczenia migreny enel-med.
Dla kogo przeznaczony jest zabieg leczenia migreny toksyną botulinową?
Leczenie migreny toksyną botulinową to doskonałe rozwiązanie dla osób cierpiących na chroniczne bóle migrenowe, czyli takich, które:
w ciągu miesiąca mają 15 dni z bólem głowy, w tym 8 dni to bóle migrenowe;
objawy migreny utrzymują się u nich średnio przez 3 miesiące w roku lub migrena występuje regularnie od 3 miesięcy.
Zabieg przeznaczony jest dla osób od 16. roku życia. Do jego wykonania niezbędna jest kwalifikacja podczas wizyty w poradni leczenia migreny.
Przeciwskazania do zabiegu
Leczenia migreny toksyną botulinową nie można przeprowadzić u osób, które:
w ciągu ostatnich 12 tygodni były ostrzykiwane botoksem w celach estetycznych,
cierpią na miastenię (nużliwość mięśni),
mają zakażenia w miejscach poddawanych iniekcji.
Zabieg leczenia migreny nie jest wskazany też dla:
kobiet w ciąży i karmiących piersią,
pacjentów z zaburzeniami krzepnięcia i ciężkimi infekcjami uogólnionymi.
Formularz kontaktowy
Wypełnij poniższy formularz. Oddzwonimy, opowiemy o szczegółach oferty i umówimy Cię na wizytę.