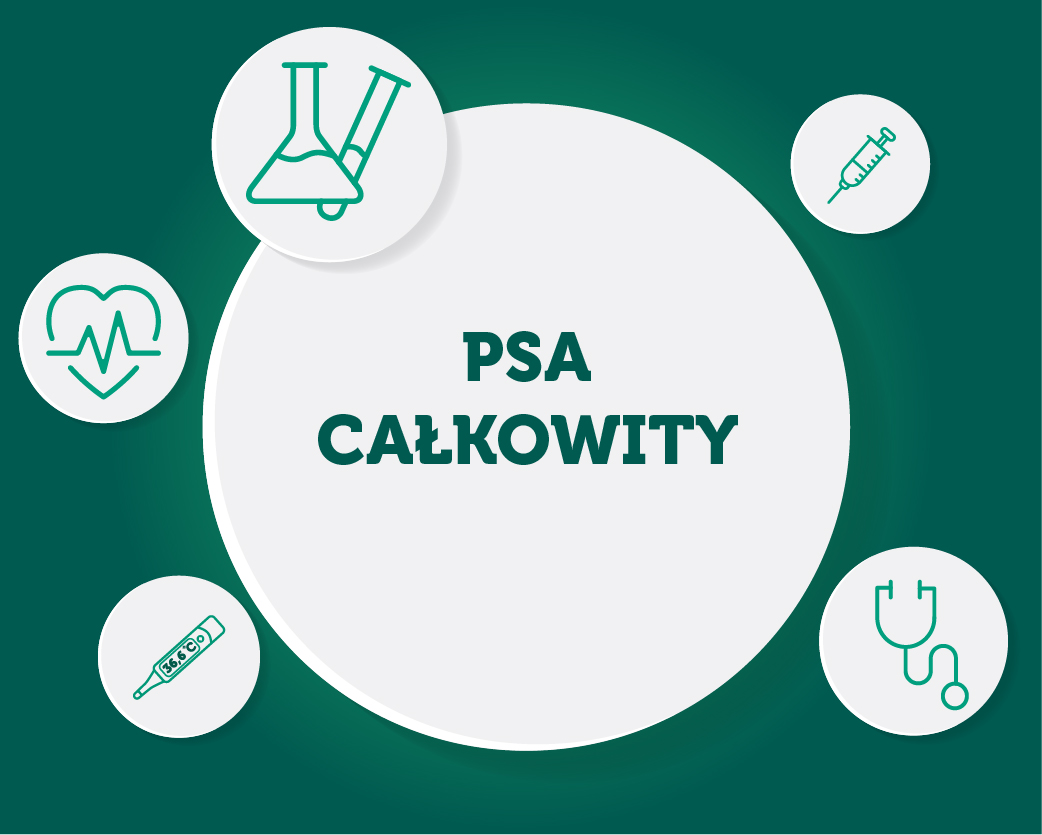 Opis badania
Oznaczanie stężenia PSA (Prostate Specific Antigen) używane jest w diagnostyce schorzeń gruczołu krokowego. Ze względu na fakt, iż enzym jakim jest PSA wytwarzany jest jedynie przez prostatę, umożliwia to dokładne monitorowanie funkcjonowania tego narządu. Zbyt wysoki PSA całkowity we krwi może świadczyć o poważnych problemach zdrowotnych u mężczyzn. Na badanie poziomu PSA zapraszamy do placówek enel-med na terenie całego kraju.
PSA jest glikoproteiną wytwarzaną tylko i wyłącznie przez komórki nabłonkowe znajdujące się w prostacie. Enzym ten odpowiada za rozkład białek wchodzących w skład płynu nasiennego – jednego ze składników spermy. PSA jest wydzielany właśnie do płynu nasiennego stąd jego prawidłowe stężenie jest niskie we krwi, a wzrasta przy patologiach prostaty takich jak ostre lub przewlekłe zapalenie prostaty, rak prostaty czy łagodny przerost gruczołu krokowego. We krwi człowieka PSA może występować w dwóch formach – związanej z białkami (tzw. PSA-ACT) oraz w postaci wolnej (tzw. fPSA). Obie wymienione frakcje składają się na całkowite PSA, które stanowi podstawę  przy rutynowych badaniach laboratoryjnych.
Badanie poziomu całkowitego PSA – wskazania
Zalecenia co do częstości wykonywania pomiaru PSA całkowitego we krwi różnią się między sobą.  Amerykańskie Towarzystwo Urologiczne (AUA) zaleca przesiewowe badanie poziomu PSA całkowitego u mężczyzn w wieku 55-69 lat. Jeżeli w bliskiej rodzinie (np. u ojca) wystąpił przypadek raka prostaty to zalecanym wiekiem rozpoczęcia regularnych badań poziomu PSA we krwi jest 40. rok życia. Wskazaniami do badania PSA całkowitego są również:
wiek powyżej 50 roku życia,
krwiomocz,
ból podbrzusza,
przedłużone oddawanie moczu,
częstomocz,
uczucie parcia na pęcherz,
osłabiony strumień moczu,
nykturia- oddawanie moczu w nocy.
Badanie poziomu całkowitego PSA – przeciwwskazania
Ze względu na małą ilość pobieranej krwi żylnej, nie sformułowano przeciwwskazań do wykonania tego badania.
Badanie poziomu całkowitego PSA – jak przygotować się do badana?
pobranie krwi najlepiej wykonać w godzinach porannych po całonocnym wypoczynku,
ograniczyć spożywanie używek 2- 3 dni przed badaniem,
unikać wzmożonego wysiłku fizycznego, w szczególności jazdy na rowerze ok. 12 godzin przed badaniem,
bezpośrednio przed badaniem wypocząć ok. 15 minut,
rano przed badaniem  wypić szklankę niegazowanej wody,
w przypadku stosowania leków na stałe należy ustalić z lekarzem, czy nie będą one wpływały na wynik badania,
badanie należy wykonać również przed zabiegami inwazyjnymi w obrębie prostaty, lub 2-3 tygodnie po ich przeprowadzeniu.
Badanie poziomu całkowitego PSA – jak przebiega  badanie?
Pacjent zapisuje  się do punktu pobrań na dany dzień i na  umówioną godzinę . W dniu badania zgłasza się do recepcji w celu potwierdzenia obecności w placówce. Następnie kierowany jest
do punktu pobrań. Na realizację usługi zostanie zaproszony przez pracownika medycznego.
Po dopełnieniu niezbędnych  formalności pacjentowi pobierana zostanie  krew żylna. Badania realizuje wykwalifikowany personel. Personel punktu pobrań poinformuje pacjenta o terminie realizacji badań oraz o sposobie odbioru wyników badań. Po badaniu należy  pozostać w placówce ok 5 minut w celu uciskania miejsca wkłucia. Wszelkie dolegliwości związane z wykonaniem zabiegu pobrania krwi należy zgłaszać do pracownika punktu pobrań.
Badanie poziomu całkowitego PSA – wynik i interpretacja
Stężenie PSA całkowitego we krwi nie powinno przekraczać 4 ng/ml. Wartość ta nie jest jednak taka sama dla wszystkich mężczyzn i zależy od wieku badanego pacjenta. Umownie przyjęto, że pomiędzy 40. a 50. rokiem życia nie powinno przekraczać 2,5 ng/ml, a do 60 roku życia – 3,5 ng/ml. Jeżeli poziom całkowitego PSA we krwi jest niższy niż 2,5 ng/ml, to ponowne badanie warto przeprowadzić dopiero za dwa lata. Jeżeli poziom jest wyższy, zalecane jest powtórne oznaczenie za rok.
Przyczyny podwyższonego PSA:
łagodny przerost prostaty,
przebyte badanie per rectum,
przewlekłe oraz ostre zapalenie prostaty,
rak prostaty,
przebyte w ostatnim czasie cewnikowanie pęcherza moczowego,
poziom PSA fałszywie zawyżony przez stosunek seksualny odbyty w zbyt krótkim czasie przed badaniem lub jazdę na rowerze.
Wynik pomiędzy 4-10 ng/ml to tzw. szara strefa, która może powinna skłonić do dalszej obserwacji i diagnostyki w kierunku nowotworów prostaty. W takim przypadku może być konieczne oznaczenie wolnej frakcji PSA we krwi (fPSA), która może ułatwić odróżnienie procesu złośliwego od procesu łagodnego. Wartości powyżej 10 ng/ml jest jednoznacznym wskazaniem do wykonania kolejnych badań diagnostycznych takich jak np. biopsja gruczołu krokowego.
Każdy wynik badania powinien być skonsultowany z lekarzem urologiem, który w oparciu o swoją wiedzę, podejmie odpowiednie kroki diagnostyczne oraz lecznicze.
Formularz kontaktowy
Wypełnij poniższy formularz. Oddzwonimy, opowiemy o szczegółach oferty i umówimy Cię na wizytę.