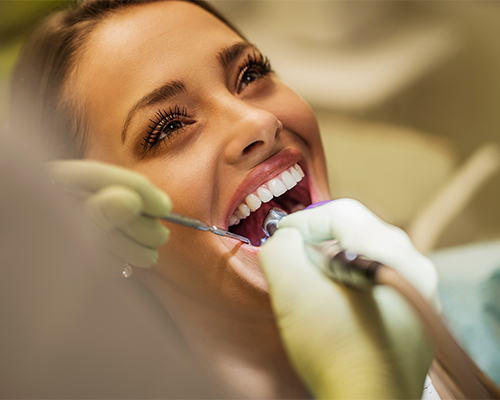 Opis specjalizacji
Stomatologia zachowawcza jest to dział stomatologii poświęcony profilaktyce (zapobieganiu) próchnicy, a także skutecznemu leczeniu powstałych zmian próchnicowych i ich następstw. Bardzo obszerną część stomatologii zachowawczej stanowi endodoncja zajmująca się leczeniem kanałowym zębów. Z pomocy doświadczonych stomatologów można skorzystać w placówkach enel-med w całej Polsce!
Próchnica to choroba zakaźna, której powstanie jest uwarunkowane współoddziaływaniem następujących czynników:
Dietą bogatą w węglowodany.
obecnością płytki nazębnej, która stanowi siedlisko bakterii próchnicotwórczych. Bakterie te, żywiąc się cukrem, wytwarzają kwasy, które odwapniają, inaczej "rozpuszczają" tkanki zęba.
Podatnością zęba na odwapnienie.
Bardzo ważną rolę odgrywa również czas i częstość wzajemnego oddziaływania czynników. Leczeniem skutków szkodliwego działania drobnoustrojów zajmuje się stomatologia zachowawcza. Jej głównym zadaniem jest leczenie zmian próchnicowych tak, aby umożliwić pacjentowi zachowanie naturalnych zębów przez jak najdłuższy czas.
Leczenie zachowawcze zębów – kiedy zgłosić się do stomatologa?
Zadaniem współczesnej stomatologii zachowawczej jest zapobieganie powstawaniu ubytków próchnicowych, ich wczesne wykrycie oraz podjęcie szybkiego mało inwazyjnego leczenia, by nie dopuścić do rozprzestrzenienia się próchnicy. Może to skutkować leczeniem kanałowym i w ostateczności utratą zęba.
Do specjalisty z zakresu stomatologii zachowawczej należy się zgłaszać na przeglądy co sześć miesięcy – dentysta skontroluje stan zębów pacjenta w oparciu o badanie kliniczne i radiologiczne. Jeśli będzie taka potrzeba, wypełni ubytki o małym zakresie. Wczesne wykrywanie zmian próchnicowych sprawia, że leczenie zachowawcze zębów jest bezbolesne, szybkie i niekłopotliwe.
Poza tym do stomatologa należy się również zgłosić, gdy tylko pacjent zauważy u siebie niepokojące objawy.
Stomatologia zachowawcza – jakie objawy powinny zaniepokoić?
Wśród objawów sygnalizujących występowanie próchnicy znajdują się:
krótkotrwałe dolegliwości podczas spożywania słodkich, zimnych lub ciepłych pokarmów,
występowanie nadwrażliwości,
krótkotrwały ból podczas spożywanie pokarmów,
ukruszenie się zęba.
Leczenie zachowawcze zębów – jak przebiega?
Leczenie zachowawcze ubytku zęba polega na mało inwazyjnym opracowaniu zmian próchnicowych z zachowaniem jak największej ilości własnych tkanek twardych zęba, a następnie – na odbudowaniu zęba przy użyciu materiałów wypełniających. Dzięki nowoczesnym metodom znieczulającym stomatologia zachowawcza jest obecnie bezbolesna. Szeroki wybór materiałów wypełniających sprawia, że dentysta może zachować estetykę uśmiechu i zapewnić pacjentowi trwałość wykonanego wypełnienia.
Stomatologia zachowawcza – co po wizycie?
Po wizycie u stomatologa należy pamiętać o regularnej higienie jamy ustnej w warunkach domowych – zęby należy myć po każdym posiłku (a przynajmniej dwa razy dziennie) przez 2v3 minuty przy użyciu pasty z fluorem oraz szczoteczki twardości włosia o średniej. Nie wolno pominąć także oczyszczania przestrzeni międzyzębowych, czyszczenia języka oraz używania płynów do płukania ust. Regularnie należy zgłaszać się na przeglądy stomatologiczne w odstępach 6-miesięcznych. Również profesjonalne zabiegi higienizacji należy wykonywać co pół roku, a w niektórych przypadkach nawet częściej.
FAQ
Jak zapisać się na wizytę?
Na wizytę u stomatologa można się zapisać przez aplikację, nasz system rezerwacji online lub telefonicznie.
Czy leczenie zachowawcze zęba boli?
Nowoczesne metody znieczulania sprawiają, że leczenie zachowawcze zębów nie musi być bolesne dla pacjenta. Dzięki temu wizyta u dentysty przebiega bez zbędnego stresu.
Jak często zgłaszać się na wizyty kontrolne?
Na okresowe przeglądy stomatologiczne warto się zgłaszać mniej więcej co sześć miesięcy.
Formularz kontaktowy
Wypełnij poniższy formularz. Oddzwonimy, opowiemy o szczegółach oferty i umówimy Cię na wizytę.