Service description
Smile is your attribute. Besides its esthetic value, a healthy smile is the basis of the overall health of the body. Data show that 50% of people are afraid of the dentist, 90% of children have a few teeth that need to be treated, and an average 40-year-old has several missing teeth. Why such statistics? This results from our dread, our fear of treatment.
Don't search for excuses. Come or bring your child to the dental professionals who will put a smile on your face over one day, during one visit, safely, without any pain or stress.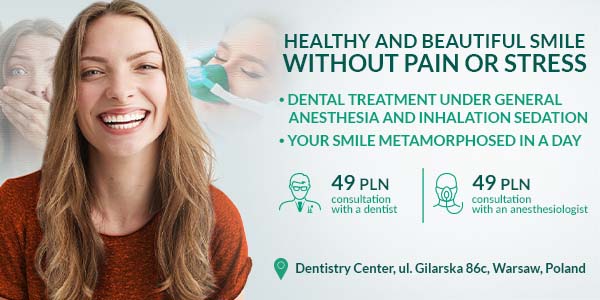 Day care clinic at Zacisze, Warsaw is an exceptional place on the map of Poland. As one of the few, our clinic has the most modernly equipped operating room for dental treatment under general anesthesia. With our patients' comfort in mind, we offer the best specialized care of our dental and anesthesiologist team and the highest post-surgery comfort in the recovery room.
Specialists from enel-med dentistry, who first consult, then discuss and perform a procedure, do their job with exceptional attention and commitment, thus offering each patient the highest level of services.
Under general anesthesia, we can:
treat dental caries in children and adults
perform root canal treatment
perform dental surgery
perform extensive prosthetic procedures
Furthermore, we also offer periodontal, orthodontic and pedodontic (pediatric dental) procedures.
Dental treatment under anesthesia – who is it intended for?
Everybody can undergo dental treatment under anesthesia. We perform procedures using the most modern equipment in both adults and children. Each patient who comes in for a visit is carefully examined and their eligibility for the procedure is checked. On an individual basis, we create a treatment plan taking into consideration the patient's medical needs.
What patients could benefit from dental treatment under anesthesia?
patients suffering from dentophobia (extreme fear of dentists)
people with extensive and numerous dental caries
children who fail to cooperate with the dentist in the office
mentally and physically disabled persons
individuals who wish to regain their smile in a day
patients undergoing extensive prosthetic and implant procedures
Why is it a good idea to choose general anesthesia?
It is a safe procedure. The eligible patient's condition is continuously monitored by the anesthesiologist present during the procedure. Doses of hypnotic and analgesic agents are determined with precision based on previously prescribed and analyzed tests.
It's time for a beautiful smile without fear! General anesthesia puts the patient into deep sleep. Without any feeling of pain or stress and without any notion of time, we wake up trauma-free with a beautiful and healthy smile.
Dental treatment under general anesthesia fulfils our dream of a beautiful smile in one day. People who are pressed for time, for example those who permanently reside abroad, can undergo several procedures or extensive prosthetic treatment during one visit.
Pediatric dental treatment under general anesthesia
Prolonged dental neglect, extensive dental cavities, your child's fear and dread or trauma before going to the dentist are all medical indications for dental treatment under general anesthesia. If all other methods have failed, and your child suffers from pain and is at risk of serious health complications – don't wait! General anesthesia is a safe method to restore your child's healthy smile and prevent treatment-related trauma, which has been used for many years. It is used all over the world with success. Your child's health is the highest priority. Don't let them grow up in suffering. Schedule an appointment today!
INHALATION SEDATION
What is inhalation sedation?
Sometimes, out of fear of pain and dreading an appointment with the dentist, we give up a chance of having a healthy and beautiful smile. Modern techniques of dental anesthesia offer help for such patients.
One of them is inhalation sedation. Laughing gas administered during the visit helps the patient relax and forget the fear, without losing consciousness. Administering nitrous oxide and oxygen (inhalation sedation) is a common solution used in dentophobia in adults, in pediatric dental treatment and for longer implant or surgical procedures performed in the dentist's office.
What is the difference between sedation and general anesthesia?
Both general anesthesia and inhalation sedation are used during dental treatment; however, unlike with general anesthesia, a sedated patient stays in contact with the dentist throughout the procedure, they are not in the state of deep sleep, they are conscious although their attention is slightly diminished. Under sedation, the patient breathes on their own and reacts to physical and verbal stimuli. Sedation reduces anxiety, pain and fear, offering the patient a sense of relaxation during the procedure. Currently, it is considered to be one of the most effective methods of overcoming a phobia that accompanies patients during their visits. Laughing gas limits the patient's awareness in a controlled manner; however, it doesn't suppress reflexes entirely. The patient stays in verbal contact with the medical team, which helps the dentist perform the procedure smoothly.
Who can use inhalation sedation?
Sedation is particularly helpful for patients with dentophobia (extreme fear of dental treatment), including children. It is also helpful in patients with epilepsy and asthma, whose stress during a procedure can exacerbate the symptoms of their disease. By reducing tension and fear, it decreases the risk of shortness of breath and epileptic seizures. Sedation is a very popular method in the Western European countries and the USA. It is safe and causes no undesirable effects. It should be recommended as a modern method of overcoming fear of the dentist among adults, and a way to minimize unpleasant experience during dental treatment in the youngest patients.
Dental treatment under inhalation sedation in children
Sedation using nitrous oxide and oxygen is completely safe and can already be used in children aged 3 years. Gas is administered in the same way as for adults. The procedure involves administering a mixture of gases to relax the little patient. Safe proportions of gases help transfer the child into the world of dreams, while maintaining the contact with the doctor. The child does not fall asleep, but is not aware of what is happening around them. The sedative mixture is administered throughout the procedure via a special mask. When the treatment is finished, the child regains full awareness after having received pure oxygen to breathe. Inhalation sedation helps to perform completely stress-free dental treatment.
Contact form
Please complete the form below. We will call you back, tell you about the details of the offer and arrange an appointment for you.