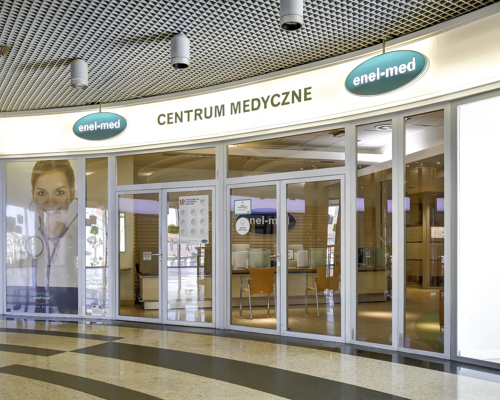 Kontakt
Godziny przyjęć
Dentistry:
Mon-fri.: 8.00-20.00
Saturday: 8.30-13.00
Description of facility
The enel-med medical center, the Poznań Merchant branch is located on Pl. Wiosny Ludów 2 in Poznań. The branch is located in the Kupiec Poznański building on the second and fifth floor. It was established in 2006 and is adapted for the disabled.
Access by public transport to the enel-med branch Kupiec Poznański
The branch can be reached by public transport
– trams: 2, 5, 9, 13, 16
Parking for patients
Motorized patients have an underground garage at their disposal, free of charge for patients, the parking ticket must be stamped at the reception with our stamp.
On the area of 1 500 m2, we provide patients with:
14 specialist offices in which they admit: – general surgeon, dermatologist and venereologist, diabetologist, dietitian, endocrinologist, gastrologist, gynecologist, internist, cardiologist, ENT specialist, occupational medicine, neurologist, ophthalmologist, orthopedist, proctologist, pulmonologist, urologist.
4 dental offices: dental surgeon, dental diagnostics, endodontics (under the microscope), oral hygiene, implantologist, prosthetist, pedodontist (pediatric dentist), aesthetic dentist, conservative dentist, dental X-ray
2 pediatric offices, located on a separate floor (floor 5), two offices for healthy children, one office for sick children, treatment room (vaccinations)
Rehabilitation; 2 exercise rooms, massage room, 3 rooms where the treatments are performed: shock wave, laser therapy, magnetic field, ultrasound, local cryotherapy, interference currents, TENS current, diadynamic currents, ionophoresis, electroplating, electrostimulation
the ability to perform diagnostic tests such as: X-ray, ultrasound, spirometry, field of view, audiogram, ECG, exercise test, thin needle biopsy thyroid, apnea treatment, mycological examination
treatment point where laboratory tests, cryotherapy, electrocoagulation, dermatological curettage, surgical procedures are performed
In addition, in enel-med. Poznan merchant
Patients can take advantage of the sleep apnea outpatient clinic.
Pokaż na mapie
Galeria