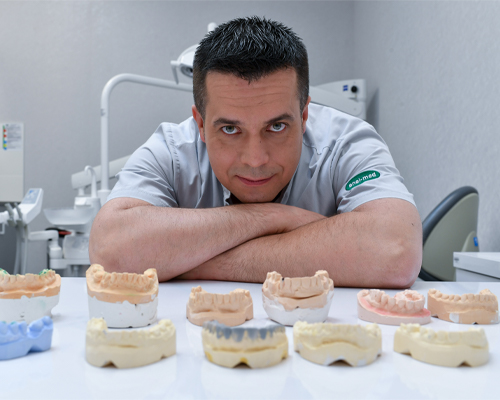 Opis specjalizacji
Prosthodontics is a field of dentistry that deals with the reconstruction of damaged tooth tissues, replacement of missing teeth, and, ultimately, ensuring bright smiles. We provide a broad range of prosthetic procedures to patients of enel-med medical centres throughout Poland.
Prosthodontics is a field of dentistry that enables to reconstruct tooth tissue previously lost due to caries, mechanical injury or extraction. A prosthodontist will replace missing teeth and ensure you have a nice smile with healthy-looking teeth that are functional.
Prosthodontist – when to visit the doctor?
Visit a prosthodontist if:
you are missing an isolated tooth or several teeth,
you are missing all your teeth,
you have suffered mechanical trauma to the teeth,
you have teeth that have been heavily damaged by caries or pathological abrasion,
you require correction of tooth aesthetics.
Certainly, you should be aware of the fact that prosthetic work is very often the last stage of dental treatment. Beforehand, you need to undergo e.g. conservative (including root-canal) treatment, orthodontic treatment or dental implant treatment.
Prosthodontics – treatment methods
Depending on the problem with which you come to the enel-med centre, your individual needs as well as financial capabilities, our prosthodontists prepare the right treatment plan for you using modern therapy methods. We offer:
These artificial crowns enable to restore the shape and function of damaged teeth when standard restoration with a composite filling is no longer possible. Crowns can be made from a variety of materials. Our offer includes all-ceramic crowns, porcelain crowns fused to zirconium oxide, porcelain crowns fused to metal, metal crowns, and composite crowns.  If this is possible, dental crowns are placed on patients' own tooth a small amount of which is removed, otherwise – on implants.
Bridges are dental restorations that replace an isolated missing tooth or several missing teeth.  They consist of dental crowns placed on patients' own teeth (or on implants) connected via a pontic that replaces a missing natural tooth.
Often, this is the only way to replace a crown of patient's own tooth that has been heavily damaged by caries or trauma. This is a pin that is placed in the root of a tooth that has previously undergone the root-canal treatment.  A dental crown is placed on this pin. A prerequisite for the crown-root inlay is a tooth that has undergone the proper endodontic treatment and shows no inflammatory lesions in the apical area.
These are permanent dental restorations that provide an alternative to large composite fillings. They reflect the natural shape of the chewing surface, cusps, and sometimes even the lateral and contact surfaces. They are designed to prevent further damage to the tooth.   They are made of materials more durable than the standard ones used for fillings in dental practices.
Veneers are very thin dental restorations made of porcelain or composite that are placed to the labial surfaces of the front teeth for aesthetic purposes. They enable to restore damaged parts of teeth, close diastemas, lengthen dental crowns or eliminate discolourations. They provide good functional and aesthetic results.
These are dental restorations used for patients who are missing multiple teeth or even all their teeth. At enel-med centres, we use three types of dentures:
frame dentures: made of a metal structure, holding the denture on the remaining natural teeth, and acrylic dental crowns; they are durable, stable and comfortable to use; their purpose is to replace partial losses;
acrylic dentures: made entirely of acrylic; depending on the patient's needs, they may be partial or complete; they enable daily functioning; if properly made, they are stable and comfortable,
 equipped with additional invisible retention elements thanks to which they maintain exceptional stability and do not press on the mucosa; they may be supported by the patient's own teeth or implants; they ensure easier adaptation of the patient to the denture
Before starting the prosthetic treatment, clinical and radiological diagnostics should be carried out, necessary conservative treatment completed, and in some cases root-canal treatment may be recommended.
Contact form
Please complete the form below. We will call you back, tell you about the details of the offer and arrange an appointment for you.