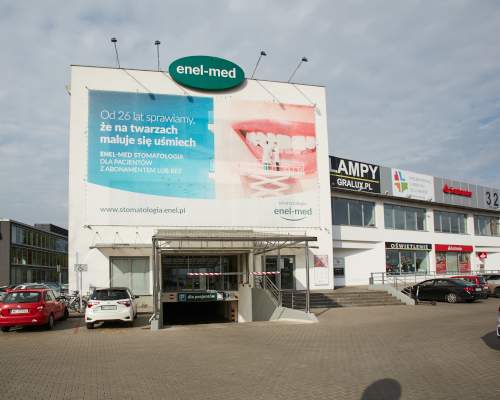 Kontakt
Godziny przyjęć
Dentistry:
Pon-pt.: 8.00-20.00
Sobota: 8.00-15.00
Description of facility
The enel-med medical center at Puławska branch is located on the street Puławska 326 in Warsaw, Office, Exhibition and Trade Complex, 3 floors (-1; 0; +1; +2). The branch was established in 2008 and is adapted for the disabled.
Access by public transport to the enel-med department Puławska branch
You can get to the branch by various means of public transport
– coaches 209, 709, 715, 727, 737, 739, N83 (Sójki stop), access from Metro Wilanowska to the abovementioned buses.
Parking for patients
Motorized patients have at their disposal a large free car park: outdoor (38 parking spaces), underground (46 parking spaces)
On the area of 2,200 m2, we provide patients with:
19 specialist offices in which there are: allergist, vascular surgeon, general surgeon, plastic surgeon, infectious diseases specialist, dermatologist, diabetologist, endocrinologist, gastrologist, gynecologist, internist, cardiologist, ENT specialist, occupational medicine, travel medicine, nephrologist, ophthalmologist, orthopedist, psychiatrist, pulmonologist, rheumatologist, urologist, pediatric allergologist, pediatric surgeon, pediatric dermatologist, pediatric endocrinologist, pediatric cardiologist, pediatric ENT specialist, pediatric ophthalmologist, pediatric ophthalmologist, pediatric orthopedist, pediatrician – sick children, pediatrician
4 dental surgeries: dental surgeon, endodontics under the microscope, oral hygiene, implantologist, orthodontist, periodontist, prosthetist, prosthetics on implants, pedodontics (pediatric dentist), aesthetic dentistry, conservative dentistry, Dental X-ray, pantomogram, telerentgenogram
4 pediatric offices, located in a separate zone
rehabilitation, separated zone (level 2). There are 4 rooms (2 physiotherapy rooms, 1 massage and 1 neurological rehabilitation for children), kinesitherapy exercise room) and two changing rooms (women's and men's) with a shower. Physical therapy (magnetotherapy, laser therapy, ultrasound, phonophoresis, local cryotherapy, currents: TENS, interference, DD, Trabert, galvanization, ionophoresis, Russian stimulation, electrostumulation, shock wave) Kinesitherapy: orthopedic therapy for adults and children, manual therapy, outpatient therapy. Kinesiotaping.  Neurological rehabilitation of children and infants. Therapeutic massage (partial, lymphatic, dry face).
the ability to perform diagnostic tests such as: Bone X-ray, dental X-ray, gynecological ultrasound (transvaginal and through the abdominal wall), obstetric ultrasound (PAPPA test – prenatal ultrasound according to FMF, pregnancy outside the standard (PTGP), ultrasound fetal heart echo, ultrasound thin and thick needle biopsy, abdominal ultrasound, ultrasound testicles, ultrasound of muscles, soft and periarticular tissues, ultrasound of the urinary system, breast ultrasound, prostate ultrasound through the abdominal wall, ultrasound of the salivary glands, ultrasound of the thyroid gland, ultrasound of lymph nodes, ultrasound of the heart (echocardiography, echo of the heart), ultrasound of the vessels (Doppler) abdominal aorta and its branches, ultrasound of the hips (pre-luxation outpatient clinic), orthopedic ultrasound (including bone pelvis, joints and tendons), sleep apnea examination, spirometry, cytology, histopathology, ECG, platelet rich plasma and hyaluronic acid therapy (orthopedics), skin tests food and inhalation (allergology)
treatment point where: blood sampling, test strips, inhalations, injections, removal of sutures, change of dressings, removal of ticks (possibility of giving them for diagnostics), vaccinations of children and adults (including travel medicine and infectious diseases)
Pokaż na mapie