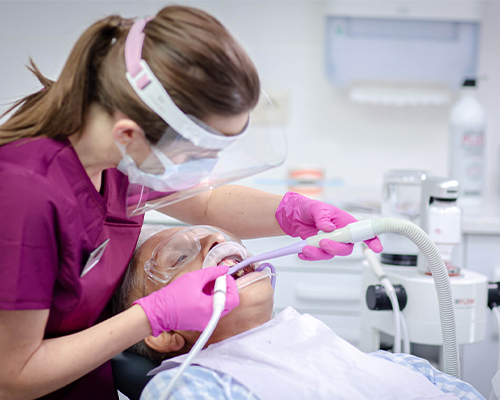 Service description
What is GBT?
GBT (Guided Bioflim Therapy) is an innovative treatment consisting of complete removal of harmful bacterial plaque (called biofilm), deposits and calculus from the entire oral cavity, which is then followed by fluoridation. The 8-step GBT procedure is extremely precise, yet non-invasive and safe. It not only cleans plaque and tartar from tooth surface, but also removes biofilm from the gums, gingival pockets and other soft tissues of the mouth. The treatment is intended for patients aged 7 and over.
8 steps to perfectly clean teeth
Assessment

– we evaluate healthy teeth, presence of caries, gingivitis, periodontitis and implants.

Disclosure

– using dye pellets, we show the patient which areas are not being properly cleaned. Staining makes it easier to remove biofilm. Once the biofilm is removed, the calculus is easier to detect.

Motivation

– we explain the role of prophylaxis and provide instruction on oral hygiene. We explain the use of electric toothbrushes, interdental brushes and irrigators.

Airflow

– within the oral cavity we clean natural teeth, fillings and implants using a specialized nozzle with heated water and sand of single micron diameter. We remove sub- and supragingival biofilm and clean soft tissues (gums, tongue, palate).

Perioflow

– we remove biofilm from deep pockets surrounding natural teeth from root furcations and implants.

Piezon

– we remove sub- and supragingival tartar, clean pockets and tissues around implants and prosthetic restorations. Limited use of ultrasonic scaler protects hard dental tissues from damage.

Check

– we make sure that biofilm and tartar have been removed. We carefully scan for caries and coat teeth with fluoride.
Visit schedule – we schedule visits based on your clinical need.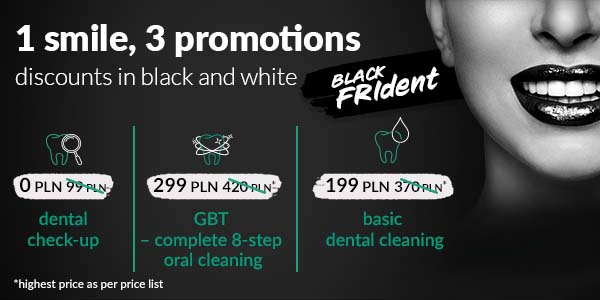 Robert's testimonial
"Many years of fear and anaesthesia at every visit! And today, it is hard to believe! GBT is a completely painless teeth cleaning procedure. What surprised me the most was the cleaning of gums, palate and tongue, an amazing feeling. I will be signing up my entire family today. I recommend it to everyone."
Maja's testimonial
"I have braces, which makes everyday tooth hygiene difficult. During the visit, the hygienist stained my teeth and gave me tips on how to take care of them every day. There was no pain during the procedure, and I don't think my teeth have ever been as clean as they are now! I will now make sure to remind my mom to come back for another appointment."
Effects of GBT treatment
Contact form
Please complete the form below. We will call you back, tell you about the details of the offer and arrange an appointment for you.