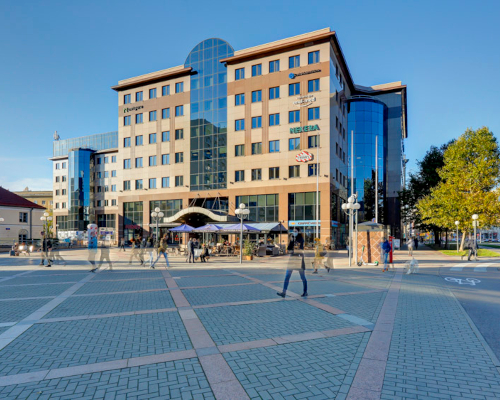 Kontakt
Address
al. Jana Pawła II 29, 00-867 Warszawa
Phone
22 147 7777
Dentistry center Zacisze
22 208 2727</a
Clinic manager
Karolina Wąsikowska
Godziny przyjęć
Dentistry
Mon-Fri: 8.00-20.00
Saturday: 9.00-15.00
Dental X-ray
Mon-Fri: 8.00-20.00
Saturday: 9.00-14: 30
Description of facility
The enel-med medical center at Blue City Warsaw is located at Al. Jana Pawła II 29.  The branch is located in the center of Warsaw, at the corner of Chłodna Street and al. Jana Pawła II, opposite Hala Mirowska on the other side of the street in the ATRIUM PLAZA building.
Enel-med Atrium Warszawa is located on two floors. Floor 2 – dentistry, floor 6 – clinic. The entrance to the branch is located from al. Jana Pawła II and from the square between the buildings Atrium Plaza and Atrium Centrum. It was established in 1999 and is adapted for the disabled.
Access by public transport to the enel-med department. Atrium Warsaw
You can get to the branch by various means of public transport
bus: 160
tram: 17, 33, 41
two tram / bus stops from the Central Station
Parking for patients
There is no specified parking, parking spaces can be found on Chłodna Street or around Hala Mirowska.
On the area of 1 120 m2, we provide patients with:
11 dental surgeries: preventive dentist, pedodontist (children's dentist), dental surgeon, periodontist, orthodontist, prosthetist, implantologist, esthetic dentist, Dental x-ray, intraoral x-ray, pantomogram, telerentgenogram, CBCT cone tomography
16 specialist offices in which they admit: internist, allergist, endocrinologist, cardiologist, occupational medicine, neurologist, dermatologist, pulmonologist, rheumatologist, general surgeon, vascular surgery, orthopedist, diabetologist, hepatologist, gynecologist, ophthalmologist, ENT specialist, gastrologist, oncological surgeon, infectious diseases, pediatric ENT specialist, children's allergologist , dietitian, proctologist, psychologist, psychiatry, nephrologist, tropical diseases
the ability to perform diagnostic tests such as: general ultrasound, ultrasound doppler, heart echo, spirometry, ECG, dental x-ray, intraoral, pantomogram, telerentgenogram, CBCT cone tomography
treatment point where laboratory tests, surgical and dermatological procedures are carried out on an outpatient basis, vaccination for adults, blood collection
Pokaż na mapie
Galeria