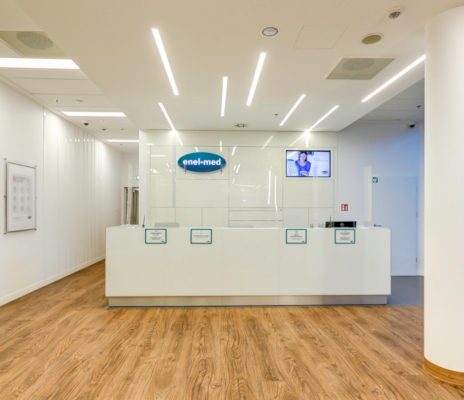 Kontakt
Godziny przyjęć
Dentistry:
Pon-pt.: 8.00-20.30
Sobota: 9.00-14.00
Description of facility
The enel-med medical center at Wilanów Warsaw is located at Al. Rzeczypospolitej 14 in Warsaw. The entrance to the ward is from the Alto Shopping Center, the main entrance, behind the pharmacy, there is a lift to the 1st floor; from street Al. Rzeczypospolitej 14 by an external entrance, stairs to the 1st floor, From the underground car park, elevator access directly to the 1st floor. It was established in 2017 and is adapted for the disabled.
Access by public transport to the enel-med branch. Wilanów
The branch can be reached by public transport
– buses: 522 (stop Oś. Królewska), or 217 which has its stop at the Wilanowska metro station
Motorized patients
Parking for patients
have an underground garage at their disposal – 2 hours free (entry from al. Rzeczypospolitej) or parking lot at CH Alto (marked places for enel-med patients)
On the area of 1 156m2, we provide patients with:
21 specialist offices in which they admit: internist, gynecologist, allergist, occupational medicine, ophthalmologist, neurologist, orthopedist, pediatric orthopedist, dermatologist, pediatric dermatologist, general surgeon, pediatric surgeon, gynecologist, diabetologist, endocrinologist, gastrologist, cardiologist, rheumatologist, urologist, pediatrician – children health, pediatrician – sick children
4 dental surgeries: dental surgeon, implantologist, orthodontist, prosthetist, endodontist, pedodontist (pediatric dentist), aesthetic dentist, conservative dentist, dental x-ray periodontologist
4 pediatric offices in a separate zone, division into sick children and children health, and separate treatment points
the ability to perform diagnostic tests such as: Bone X-ray, dental X-ray, ultrasound, preluxation outpatient clinic, abdominal ultrasound, urinary tract ultrasound, thyroid ultrasound, breast ultrasound, soft tissue ultrasound, testicular ultrasound, salivary gland ultrasound, lymph node ultrasound, obstetric ultrasound (without 4D), injection, thin and biopsy core needle
treatment point where laboratory tests, vaccinations, and collection are carried out
In addition, at enel-med Wilanów Warsaw
Patients can benefit from dermatological, gynecological and surgical procedures.
Pokaż na mapie
Galeria