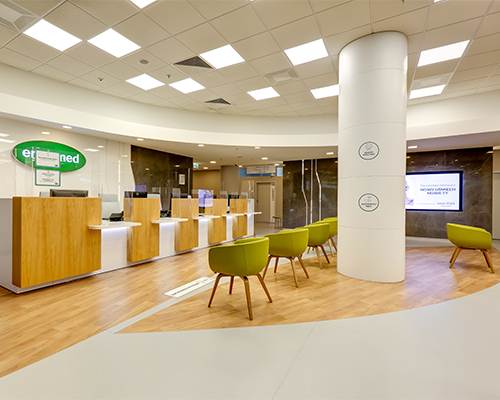 Kontakt
Address
al. Jerozolimskie 179
Phone
22 147 7777
Clinic Manager
Joanna Kobus
Godziny przyjęć
Dentistry
Mon-Fri: 8: 00-21: 00
Saturday: 8:00 a.m. – 2:00 p.m.
Description of facility
The enel-med medical center at Blue City Warsaw is located at Al. Jerozolimskie 179 in Warsaw. The entrance to the branch is located directly from the parking lot in the green zone on level -2 (lifts D10 and D9); directly from the shopping center by a glass elevator by the fountain and lifts D7 and D8 on the third floor. It was established in 2004 and is adapted for the disabled.
Access by public transport to the Blue City Warsaw enel-med branch
You can get to the branch by various means of public transport:
buses: 172, 159, 158, 517, 127
Parking for patients
Motorized patients have at their disposal: free surface parking, parking spaces in the underground car park at level -2.
On the area of 1 490 m2, we provide patients with:
4 dental offices: conservative dentist, endodontist, pedodontist (pediatric dentist), dental surgeon, prosthetist, implantologist, oral hygiene, cosmetic dentist, treatment of masticatory dysfunction, dental X-ray, pantomogram
20 specialist offices in which they receive: allergist, general surgeon, infectious diseases, dermatologist and venereologist, diabetologist, dietitian, endocrinologist, gynecologist, hematologist, hepatologist, internist, cardiologist, ENT specialist, occupational medicine, neurosurgeon, neurologist, ophthalmologist, oncologist, orthopedist, psychiatrist, psychologist, pulmonologist, urologist , pediatric allergologist, pediatric surgeon, pediatric dermatologist, pediatric dietitian, pediatric gynecologist, pediatric cardiologist, pediatric cardiologist, pediatric ENT specialist, pediatric neurologist, pediatrician or pediatrician – sick children, pediatrician – healthy children, pediatric urologist.
2 pediatric offices in a separate zone to which a separate entrance leads (healthy children – one office, sick children – 2 rooms), two collection points.
the ability to perform diagnostic tests such as: ultrasound (general and orthopedic ultrasound), preluxation outpatient clinic, general ultrasound for children, delivery injections under ultrasound, x-ray, dental x-ray, pantomogram. Audiogram, ECG, tympanogram, allergology – diagnostics, doctors / bacteriology, biochemistry, infection diagnostics, hematology and coagulation, hormones, tumor markers, serology
treatment point at which injections, vaccinations and laboratory tests are performed.
Pokaż na mapie
Galeria