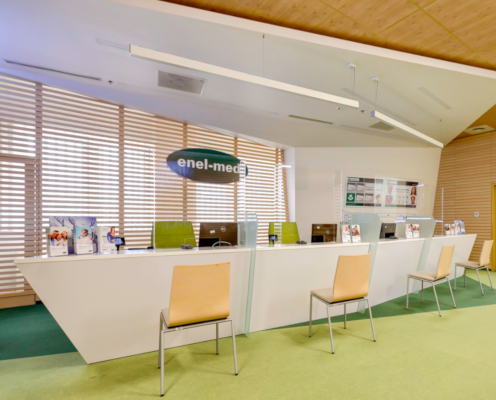 Kontakt
Adress
ul. Ostrobramska 75c, 04-175 Warszawa
Wejście do oddziału Promenada tylko poprzez klatkę schodową numer 2.
Phone
22 147 7777
Clinic Manager
Paulina Ciećwierz
Godziny przyjęć
Dentistry:
Mon-fri.: 8.00 – 20.00
Saturday: 8.30 – 14.30
Description of facility
The enel-med medical center at Promenada is located at 75ob Ostrobramska Street in Warsaw. Entrance from ul. Ostrobramska and Leroy Merlin, you can reach the ward only through cages number 1 and 2 (during pandemics only cage number 2) – floor VI. It was established in 2014 and is adapted for the disabled.
Access by public transport to the enel-med branch. Arkadia (Westfield)
The branch can be reached by public transport:
– buses: 168, 225, 502, 514, 520, 525
Parking for patients
Motorized patients have at their disposal: parking lots outside the building from ul. Ostrobramska and from the street Jana Nowaka-Jeziorańskiego – internal car park, the first 2 hours free, for enel-medical patients who need to stay in the clinic longer, the possibility of extension to 4 hours at the ward reception.
We offer patients on the area of 1 500 m2:
11 specialist offices in which they receive: ophthalmologist, ENT specialist, gynecologist
3 dental surgeries: orthodontist, periodontist, dental surgeon, implantologist, pedodontist (pediatric dentist), conservative dentist, prosthetist, point x-ray, pantomogram
2 pediatric offices in a separate zone for sick and healthy children and a treatment room
rehabilitation: urogynecological rehabilitation, dental rehabilitation, physical therapy (electrotherapy, ultrasound, laser therapy, magnetotherapy, cryotherapy), kinesitherapy (manual therapy, individual exercises)
the ability to perform diagnostic tests: dental X-ray, ultrasound, Holter EKG and RR
treatment point where blood donations, vaccinations, ECGs are performed
Pokaż na mapie
Galeria