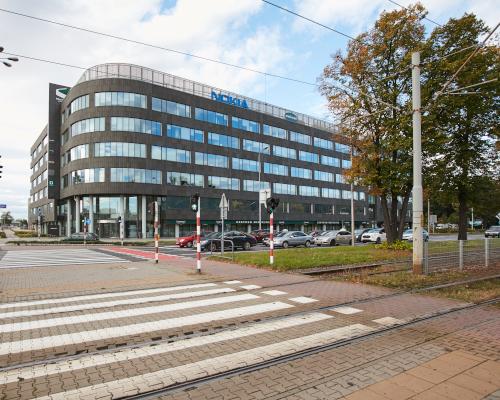 Kontakt
Godziny przyjęć
Dentistry:
Mon-fri.: 8.00-20.00
Saturday: 9.00-14.00
Description of facility
The enel-med medical center at West Gate is located at Lotnicza 12 in Wrocław, The entrance is from the front on the corner of the intersection of Legnicka, Lotnicza and Na Ostatnim Groszu Streets, the second entrance from the car park from Astra Shopping Center – on the ground floor. The branch was established in 2015 and is adapted for the disabled.
Access by public transport to the enel-med department West gate
You can get to the branch by various means of public transport
– buses: 106, 107, 109, 119, 122, 128, 129, 136, 143, 148
– trams: 3, 10, 20, 23, 31, 32, 33
Parking for patients
Motorized patients have 10 parking spaces at their disposal. Free car parking .
On the surface of 465 m2, we provide patients with:
3 specialist offices in which they admit: diabetologist, dietitian, gastrologist, endocrinologist, hematologist, internist, cardiologist, neurologist, ophthalmologist, rheumatologist, pediatric ophthalmologist
3 dental offices: conservative dentist, dental surgeon, prosthetist, implantologist, orthodontist, pedodontist (pediatric dentist), aesthetic dentist, oral hygiene, dental X-ray
Rehabilitation; Exercise room and 3 treatment rooms. Physical therapy, kinesiotaping, kinesitherapy, treatment of posture defects, therapeutic massage, back pain outpatient clinic, spine rehabilitation (back pain), adult neurological rehabilitation, neurological rehabilitation of children and babies, orthopedic rehabilitation of adults, orthopedic rehabilitation of children and adolescents, postoperative rehabilitation, dental rehabilitation urogynecological rehabilitation.
the ability to perform diagnostic tests such as: ECG, Holter ECG, Holter RR, dental X-ray
treatment point where vaccinations, injections and blood collection are carried out (collection point for children from 7 years of age)
Pokaż na mapie
Galeria